'Captain' – a Top-Notch Action/Adventure Thriller!
A Flight You'll Remember!
Packed with Mystery, Thrills, Romance and Suspense
From Best Selling Author Thomas Block
Click on the Novel for Details
Your Ticket to get onboard is only
($6.99 For Ebook Editions        $16.99 for Print Editions)
But what you'll experience along the way will be absolutely priceless!
 Danger, Romance, Intrigue
Reader and Media quotes:
"Something for everyone" – "Realistic Emotions" – "..a suspenseful, edge-of-your-seat account..a truly captivating story.." – "a deep and complex adventure through adverse situations" – "the wildest ride of your life" – "A pure gem"
Chapter Excerpts from 'Captain'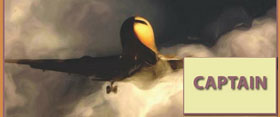 (…if you want more information about booking this nonstop flight to a great reading adventure, just click

HERE

for more Story Information, or

HERE

for more Reader Reviews – let other readers tell you what they've discovered about

Captain

)