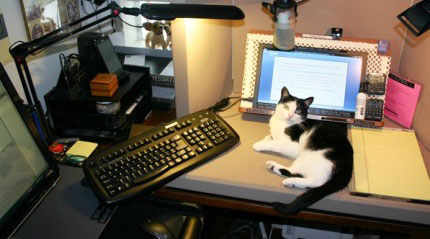 Status and History of Thomas Block Audio
Thomas Block Audio
In February, 2017, after a lengthy review of his past production and narration works through ACX, Thomas Block was awarded the coveted status of
"Audible Approved Producer"
Thomas Block Audio has, since operations began in 2012, produced
100+
titles into audio; these range from collections of short stories to lengthy novels and series of novels in many genres, plus a host of non-fiction titles.  To see the complete list of Thomas Block Audio productions (at Audible.com):
Now, for the complete story of Thomas Block Audio:
My enlightening journey into audio book production and narration…..
Back in the summer of 2012……
As a long time novelist and magazine writer, I learned about the evolving technology that would made access to audio books easy and instant, and it was yet another format that I wanted my personal material to be a part of – just like ebooks had been a dozen years earlier. The idea of getting my own books into audio – with me, the author himself, to provide the narration – was a giant lure and the game-starter.  But the game changer turned out to be the bad advice on the Internet about the do's and how's of the process and my own haste at accepting that information at face value.  I should have known better!
Being a retired airline captain, I do have a natural love for equipment so I went far beyond the 'online word' when I purchased my first stuff and set up my first 'booth' (meaning: I didn't get simply a laptop with free software, a USB microphone and a small padded closet to talk in; I went several notches higher). Even then, it turned out that the equipment I had purchased and the recording environment that I had created was far, far, far too little to do a good job.
My early-innings productions were weak, with quality problems of nearly all sorts (I had done a couple of my own novels very first and, matter of fact, I have since completely re-narrated and reproduced both Captain and Open Skies, my two original offerings.   I also used advanced software to 'remaster' several of the other earlier works that I had created for others, to improve their sound quality and overall audio specifications). At the beginning, I didn't even know what I didn't know, so I began to read books and take video courses on acoustics, audio software, hardware setups, etc.  I made several incremental improvements over the next few years, but finally decided to make the giant leap to a totally professional setup.
I now use a very effective commercial audio booth (Whisper Room), an expensive microphone that fits my voice perfectly (Manley Reference, made in California and coupled to a Manley pre-amp), a high quality secondary microphone (Neumann) through a digital preamp, a Lynx A/D converter, all of it piped through top-line software names such as Pro Tools and Izotope, I am now producing top quality material for my clients – most of whom I do a great deal of repeat work for.
I also normally add a little music (sparingly) at emotional and/or focus points throughout the text in selected books, since I feel it adds an 'audio dimension' that the written/spoken word alone can't hope to replicate. I take care of music selection and music rights on my end, at no additional charge to the author or publisher, and seamlessly add it to the narration at those suitable spots using my high tech gear.  It's a very technical process to occasionally layer in suitable background music in an audio book, and it does require a good deal of good quality software to pull it off successfully (as well as, obviously, the knowledge of which software buttons to push at which times).
It took several years, but now Thomas Block Audio has the ability to create the sound that we had been looking for since Day Number One.
To hear samples of various Thomas Block audio books,
CLICK HERE: